Chicago Airport Limo Services
Direct , non-stop door to door ground transportation services to and from your home, hotel, or office, to all Chicagoland airports. We will plan the scheduled pick up according to your instructions and will meet you at the gate or in luggage area. Just leave your worries on us when it comes to transportation. Just sit back and relax in our comfortable vehicles.
Chicago Limousine and Cars offers full Chicago airport shuttle services to both O'Hare and Midway to the Loop and the Downtown Chicago area! Our luxury limousines and airport shuttles serve the suburbs, as well as the entire Chicago Metro Area! To learn more or to rent a limo for your trip to and from the airport, please call us  toll free at 1-866-444-4559.
Airport limousine service from O'Hare and Midway
Need a to catch a plane? Arriving to town and need a transportation? Chicago Limousine and Cars convenient airport pick-up system is based on a philosophy of reduced waiting time and no parking fees, ensuring the most efficient bags-to-car arrival. Whether you need car or limo service to or from O'Hare Internation, Midway, Mitchel Field, Aurora or smaller regional airports, we can get there quickly and safely.
Why choose Chicago Limousine and Cars for airport transportation?
Auto-dispatch system to ensure speedy pickup
24/7 availability
List of limousine flat rates lets you to know what you will be paying even before you get in a car!
Online limousine reservation system — you can place a reservation half way around the globe and receive a confirmation of your order in email
10-year track record of performing easy, efficient airport pickups
A diverse fleet for all luggage capacities
No waiting in yellow cab lines
Auto flight-check
We offer Limousine and Car service in: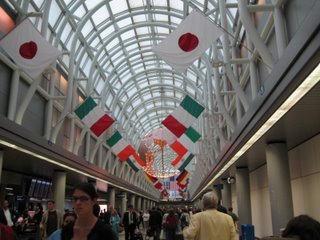 O'Hare International Airport (ORD)
Chicago Midway Airport (MDW)
Mitchel Field (MKE)
DuPage Airport (DPA)
Gary/Chicago International Airport (GYY)
Chicago Executive Airport (formerly Palwaukee) (PWK)
Schaumburg Regional Airport (06C)
Lewis University Airport (LOT)
Clow International Airport (1C5)
and any other airports not mentioned on the list
Book an advanced limousine reservation online or call our 24-hour reservation department.
Call for an immediate limousine pickup upon arrival at the airport (car arrival based upon availability).
Our airport procedures
Once you have safely landed and retrieved your luggage, please call us with your confirmation number to notify us of your arrival. Please use our toll-free number to call from any payphone. We will direct you to a curbside meeting point located right outside of your terminal's baggage claim, where your driver will meet you within minutes.
Call (773) 508-5150 or toll free (866) 444-4559.